Modsdive
Modsdive has recently released their first album, The Stasis of Humanity, a year after coming together. Modsdive fans that follow their youtube, should be familiar with most of the tracks which include songs that were originally recorded as demos. Yun Sung Hoon of Modsdive has graciously taken time out of his busy schedule to grant kPOPfix an exclusive interview. Read on to find out how Modsdive came to be, what fans can expect in the future, and what they think of the globalization of k-pop.
Please tell us about the concept and meaning of your new album 'The Stasis of Humanity'.The title is self explanatory,it's to say human progression has stopped. Society now is revolved more around self importance,selfishness, and material power. When we look at war and other various negativity,we can't help but to think love and human care has diminished recently,and that's how we came up with the title.Humanity wise we have stopped progressing for the better and that's the meaning of the title.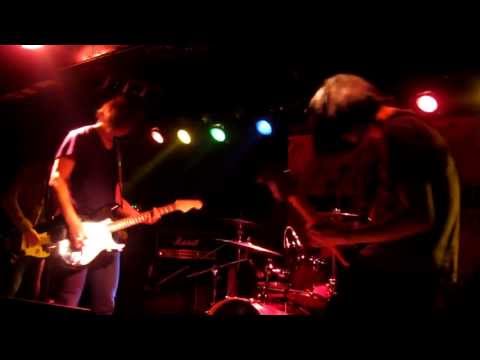 How did Modsdive form as a band?
While guitarist Yoon Sung Hoon from the band "donawhale" was working on his solo project "auhm", from the band "poe" bassist Kim Yoon Kee came together because of similar ideas and afterwards from the band "misty blue" Choi Kyung Hoon and drummer Kang Min Suk joined and we officially became "Modsdive."
'Modsdive' is a very interesting name. What is it's meaning?
While we still did not have a band name we were given the opportunity to be part of an audition program called "SangSang Madong Incubating." We had to submit a band profile and had to come with a name. Two hours just before the deadline for submitting our bands profile we remembered watching a movie called "Quadrophenia 1979." From that movie we remembered the words "mods" and also "dive" and from there our band came up with the name Modsdive. Can't really say our band is something to do with mod but this was one of the funny episodes that happened when we were coming up with our band name.
Please describe the name and contribution of each member of the band.
guitar -윤성훈 (Yun Sung Hoon)
guitar -김윤기 (Kim Yun Ki)
bass -최경훈 (Choi Gyung Hoon)
drum -강민석 (Kang Min Suk)
As a Korean artist, how do you feel about the globalization of K-pop and Korean pop culture?
It's amazing and it feels great that Kpop has become accepted world wide. Currently it's mostly fast paced dance music and idols that's getting a lot of attention, but it would be great if other genres from Korean music become well known as well so then later on when we go to the states we can speak in Korean and everyone would understand. Hehehe.
Any plans of coming to the States to perform? We've noticed several Korean rock tours here in the past few months.
At the moment we don't really have a solid plan to go to the states or even the European countries but we are thinking about it. We want to travel and tour, and if we could at the moment it would exciting and fantastic!
Who are your musical influences (Korean and/or foreign)?
Godspeed you black emperor, ambience music, Movie sounds tracks, and Korean 80's music.
What can fans expect from Modsdive in the future?
Few days ago on 4/4/2013 we released Modsdive first album "The Stasis of Humanity." For the month of May we are planning to have a concert. And already we are in the works of our second album, and we are trying to release our second album as soon as we can. We need to do our best and keep running before another Korean War breaks!!! Thank you!
Website: Modsdive
Facebook: Modsdive
Twitter: @Modsdive
kPOPfix Thanks:
Yun Sung Hoon and Modsdive – for such a great interview!
Min Ah Park – for the awesome Korean to English translation!